Training
"Terry Williams is amazing, I have completed numerous personal training courses in NZ and AUS and I can say hand on heart that Terry is the most interesting and knowledgeable instructor I have had the pleasure of learning from. I would recommend his services to any of my professional colleagues." - Brad Almond, Kia Motors

Programmes: Leadership Development / Personal Effectiveness / Team Building and more

Individual topics that can be built into a customised programme for your people. (downloadable 1-page summary PDFs)

Video: Montage of client testimonials

Terry specialises in the delivery of high impact, customised training solutions for businesses that are serious about improving the performance of their people and developing high-performance teams to get more out of their processes, systems and structures. As a trainer facilitating learning and development in others, he often finds himself drawing on his own extensive real-world business experience. Terry focuses on helping learners unlock their potential as they start to translate their newfound knowledge into tangible results.

"What Terry does is very valuable, helping and guiding others to find their own solutions". - Bettina Urbanski, HR Manager, Kohler

"Terry is an enthusiastic, funny and down to Earth person with both his personality and his teaching. He's got a great all-round in-depth knowledge with various topics and definitely knows how to cater to individuals. Would highly recommend Terry for any learning or development needs". - Ali Alsaffaf, Staff Service Excellence Lead, ASB Bank

"Your help today was invaluable, and of huge value. You really helped to cement the team together on their first day". - Elizabeth Swan, Experiential Marketing Manager, SkyCity Entertainment

"Terry led a half-day workshop at our annual conference for law firms from throughout New Zealand. Throughout his time with the delegates there was a high level of engagement and comments afterwards were universally positive. From an organisational perspective we found Terry to be professional and easy to deal with in all aspects." - Mark Ford, Chairman, LawPlus


"A fantastic day with a really engaged bunch of people that you managed brilliantly." - Garrick Loft, Senior Sales Manager, NZ International Convention Centre

"I came away feeling incredibly empowered and challenged to improve, really think about what I write and how I write!  It was not just the writing context that challenged my perspective and way of thinking, but the confidence to believe in myself again after having worked within an environment whereby I questioned was I in the right role. So, thank you for making a difference". - Angela Skelton, Auckland District Health Board

"The workshop and presenter were both very good and highly recommended.  The presenter was excellent – Terry was very engaging and had an entertaining style which kept my interest (even though I had attended a similar workshop before), and explained the content extremely well.  He seemed very knowledgeable and experienced in these forms of presentation and was able to tailor/relate the workshop to suit the audience.  He certainly added value well over and above the accompanying printed materials". - Kylie Mooney, Meredith Connell

"I recently attend a training session facilitated by Terry Williams. The subject of the training was Negotiation Skills. Terry's performance as the facilitator was top class. His knowledge of the subject & his vibrant enthusiasm for the topic was infectious. This lead to an attentive group of attendees who participated openly. I would thoroughly recommend Terry Williams as both a skilled Facilitator & a Negotiation Skills subject matter expert to any entity that has a negotiation or selling function as part of their organisation". Grant McEwen, University of Auckland

"Terry knows what he's talking about" - Rawinia Wright, OCS Limited Click here for more client comments.


 
What To Expect In One Of Terry's Workshops
Terry's workshops are immersive workshops; they are not lectures, seminars or courses. The people who do the work do the learning. To an outside observer, Terry's workshops are characterised by:
Thorough pre-workshop communication clarifying expectations for participants and minimising any potential stresses through uncertainty or logistics,
A purposeful welcome and overview, establishing Terry's approachability and credibility as a trainer and experienced leader himself with 'real world' experience and lessons,
The creation of a safe and stimulating learning environment taking into account health & safety, diversity and the needs of adult learners, acknowledging the existing wisdom within the room but also the ground rules and expectations of participation. Terry's three fundamental principles are information, interesting and involvement,
A high degree of interaction and PowerPoint only used for high visual information transfer or display of activity instructions. Much of the learning will take place via experiential learning with structured activities individually or in pairs / small groups. Terry follows the FAD model with each activity prefaced with a frame to justify it and provide direction and be followed by a debrief to question the activity's experience in a structured way: what happened + so what + now what.
A rotation of working relationships within the larger group throughout the day. Those with more knowledge can help those with less and those with less can challenge those with experience,
Ideally, although this is more of a challenge for the client than Terry, some structure, support or activity should follow the training to reinforce its transfer to the workplace. This could range from an actual project to be completed applying the skills to a real-world task (although this does place a burden on someone at the client to administer) to a simple Q&A with participants' supervisors on how the skills are going and how they might help the transfer to the workplace.
You'll see a variety of learning strategies: cooperative / collaborative, constructive, experiential, Socratic, accelerated learning. Participants will experience rotation of paired / small group work, the creation or completion of partial existing content to adapt it to their own situations, the tactical use of purposeful questions to guide people to self-discovery rather than just telling, intermittent problem-solving team-based challenges, a welcoming learning environment that gets the learners and their brains ready to learn.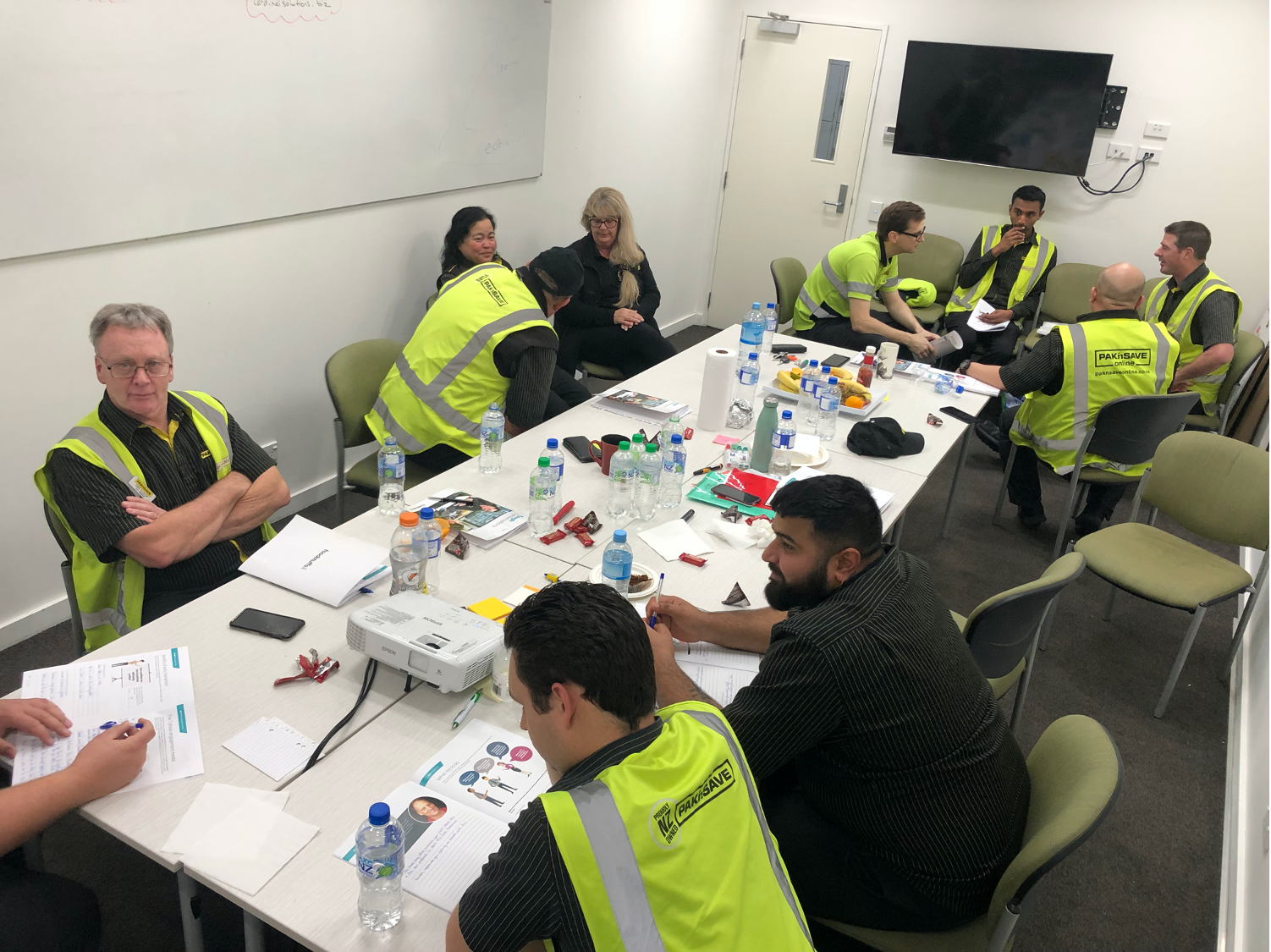 As part of addressing ever-diverse groups, as well as being generally wise principles of learning, Terry also draws on principles from the field of Maori education:
Ako (Learners also learn when they teach others)
Poutama (Like a ladder, learning needs to climb on previous learning)
Te Whare Tapa Wha (The learner's needs need to be met across multiple dimensions: physical, mental, emotional, social)
Tuakana Teina ('buddy system')
People are different and some topics lend themselves to being best delivered by particular styles. Therefore, what you get is variety, and a professional, experienced facilitator able to take examples and scenarios from the real-world of the participants and workshop them together in real-time, as opposed to didactic linear delivery of generic content. These methods ensure a productive, effective, and efficient balance between the delivery of academic content, and a practical and relevant session that is engaging, memorable, and interactive.
Business benefits associated with higher levels of core leadership skills