Terry Williams: Speaker / MC
Terry is a speaker, author & trainer with inspire-rational tools to fast-track your personal & professional effectiveness / leadership development with practical business tools, delivered engagingly and interactively - face-to-face or online. Click here for his speaker 'one-sheet'.

There is a real concern amongst leaders that their people are unfit for change, stuck or settling for average. Picture your people leaving your event energized, having actively participated in discovering in themselves new skills & confidence they can apply straight away. How can we connect with people's own internal motivations and help them use their own inner passions to drive towards productivity, success and happiness? And hopefully have a few laughs along the way... Laughing and learning. Unforgettable, entertaining, fun, interactive and full of takeaway 'How to's.' Categories: Change and resilience, Employee Engagement, Workplace Culture, Personal Effectiveness, Motivational, Teams, Humour Book now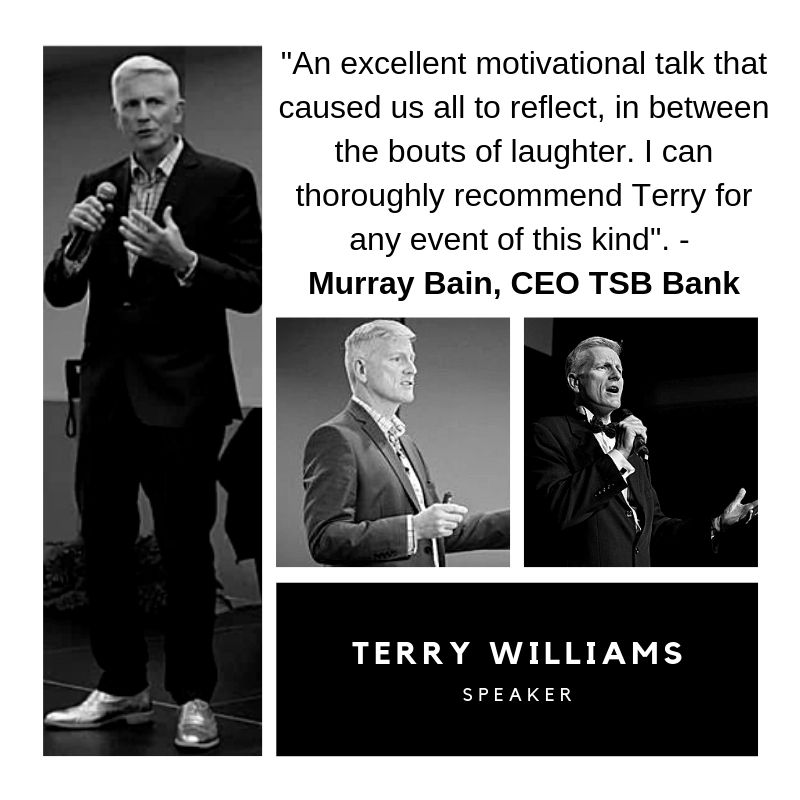 Terry does not engage in vague motivational rah-rah. It's entertaining, interesting and a set of practical tools to takeaway and put into practice. He's a trainer originally by trade and his comedy is a means to an end. Terry is an expert, author & motivational speaker on engaging people. He's a trainer and facilitator for over 25 years, and also a columnist in 'Employment Today' magazine. His books, including 'The Brain-Based Boss', take psychological research and makes it interesting and useful for people wanting to engage the people they work with or influence. He's also a comedian, performing in several New Zealand International Comedy Festivals.
Fifteen years as a professional speaker, twenty-five years as a corporate trainer and a working lifetime as a manager and salesman of products, services and ideas gave Terry a lot of experience and success in positively influencing the lives of others. His book 'THE GUIDE: How to kiss, get a job & other stuff you need to know' was acclaimed in 2008 as a platform for people to reach the young people in their lives that they wanted to influence for the better. With that book still flying off the shelves, Terry has authored influential content about influencing in his books 'The Brain-Based Boss', 'Live Work Love', 'Getting Better Buy-In' & '2 Dangerous Things A Year'.
Terry is a CSP - a Certified Speaking Professional. This is the speaking profession's highest earned international measure of professional platform competence. With this designation, meeting professionals looking to hire the best of the best see a commitment to the profession, be assured of a top-notch speaking ability, and a track record of professionalism and success. Less than 15 percent of NSA members worldwide have achieved the CSP designation and only 8 other kiwis.
His book 'The Brain-Based Boss' takes psychological research and breaks it down, to make it interesting and useful for people wanting to improve their performance and engage the people they work with. He presents slices of his new book 'Getting Better Buy-In' offering practical things that frontline leaders and individuals can actually do to make a difference.
Terry is also a professional stand-up comedian, performing in several NZ International Comedy Festivals. Unforgettable, entertaining, fun, interactive and full of takeaway 'How to's.'
Presentation Topics
2 Dangerous Things A Year: Get Unstuck From Your Comfort Zone Because Average Sucks.
Why should we change? Why don't we change? How can we change? Work out your 'Change Muscles' now so you're ready when you need them later. Should you be worried that you or your team are not prepared for change? Change is inevitable and the rate of change is accelerating. You will learn why most people are unprepared for change. You will learn tools to get past those obstacles, build momentum & muscle through when it's tough. Engaging & entertaining, this distinctive session starts with my own story of doing 2 dangerous things a year, including becoming a stand-up comedian. It flows interactively into a series of practical takeaway tools for anyone to better handle change at work & in life. You'll realise which of the 4 stages of 'change evolution' you're at. Are you stuck in a state of 'change sloth' or 'change strain'? How can I help you move towards being 'change-fit'?
Getting Better Buy-In – Proven Tools To Build A Workplace Culture That Attracts & Retains Talent.
Have you ever tried to scope the sheer scale of the cost of your staff churn, disengaged employees and turnover? Never mind the recruitment costs, what about all the indirect effects on productivity and morale as people depart, arrive, learn, remake mistakes & institutional knowledge walks out the door with their stapler. It's a spiral. You do not want a reputation as a poor employer as you know that'll drive away talented people and, soon after, drive away customers. You want to be running  a workplace of choice. If ever a vacancy occurs, it'll be for the right reasons and talent will beat a path to your door and that'll magnetically attract more talent. That's the kind of spiral you do want. But how? You'd like to know what drives these engaged employees. You'd like to know the specific actions you can take to influence the choice of talent to choose you. Tools for managing change and influencing behaviour based on an extensive collection of workplace and psychology research - all told in an engaging style not an academic lecture.
Engaging Your People Through Change And Uncertainty
A key with change and adversity is proactivity, doing something, even when the environment is such that you feel powerless. That feeling of powerlessness can drive anxiety and stress. Do something. Be proactive. Take some steps.


Are change and uncertainty the new normal?
Why should we assist our people through change and uncertainty?
How can we help ourselves and our people through change and uncertainty?
The dictionary's first definition of resilience is not about people. It's about manufacturing materials and how quickly they could bounce back from being dropped or damaged. Only later did psychologists tweak the definition to make it about people. Because people were seen as units of production as well.
How can people bounce back to their ability to recover from adversity? That dictionary definition of "bouncing back" is obsolete because if you assume that we are going back to the way things were before but there isn't a 'before' anymore.

How can we and our people not just survive adversity, but learn from it and come out better prepared for the next inevitable adversity?
Who Would Benefit?
Senior executives,
Employers,
Employer associations,
Owner / operators of small to medium enterprises
Team leaders